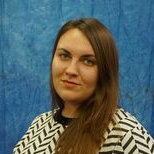 Valerie Dubytska
Deputy Director
Experience in the field of Internet Governance
Engaging youth in Internet Governance processes
Moderator of Youth Internet Governance Forum IGF-UA (Youth IGF-UA) in 2018–2020, co-moderator in 2022.
Speaker at Youth IGF-UA in 2021.
Participation in YouthDIG 2021 (remotely).
On-site participation in Youth IGF Summit and IGF in Berlin (2019).
Translation of YCIG 2019 Code of Conduct to Ukrainian
Supervisor of the team of interns, translation of the of the "NRIs Toolkit: how to start your IGF Initiative?", organization of the Youth IGF-UA Pro
Participation in the project "Integrating Ukraine into the European Digital Single Market: transforming impediments into the windows of opportunity" (translation, expertise)
Internship in iNGO European Media Platform as a bachelor student (2016–2017).
Translation of the article «Internet Governance Outlook 2017: Nationalistic Hierarchies vs. Multistakeholder Networks?» by Wolfgang Kleinwächter
Support with translation of IGF-UA reports
Support with translation of European Electronic Communications Code with further expert's opinion